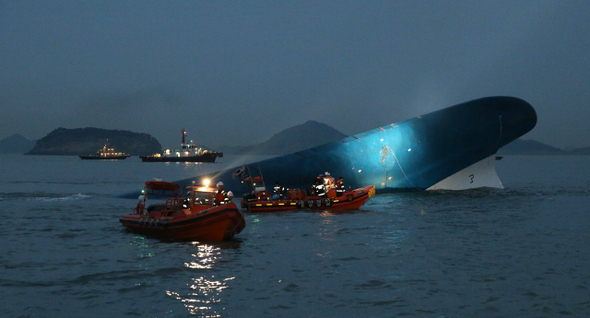 Search and rescue efforts for the sunken Sewol off the southwestern coast of South Korea (from the Hankyoreh)
침몰사고
-- A Korean ferry bound for Jeju Island sank off the southwestern coast of the peninsula on Wednesday; 14 confirmed dead and 282 missing*. Many of the passengers were high school students from Ansan on a school field trip.
All day today, footage of the rescue operations and some videos taken by the trapped passengers on their mobile phones played over and over again on the news. I kept my eyes trained on the TV screen in my school's cafeteria all throughout lunch and dinner, barely able to understand what was being said but knowing that something awful was transpiring.
It's such an overwhelming tragedy; I can't imagine what it must be like for the friends and families of those lost. I don't even know what to say to my own students. I just keep repeating, "It's so sad, it's so sad." And I ask them to translate the news reports for me. Every teacher in the country is thinking, "It could have been us."
I can't think about this any more. 뭐라지 위로에 말을 해야할지 모르겠어요. Thoughts and prayers to the victims and their families, and to an entire country in mourning. 편히 잠들기 바란다.
P.S. Some more news articles:
Reuters
,
TIME
(with video),
BBC
(with photos), and
CNN
(with video). The news reports about the "final text messages" are the most harrowing. But there's slim hope left yet: the story is not completely over.
- - -
*
Update as of May 11th, 2014
: After one month, out of 476 passengers, 172 were rescued, 275 are confirmed dead, and 29 are still missing. One civilian diver has
died during the rescue attempt
.
*President Park Geun-hye and her office
are coming under increasing fire
for their perceived responsibility for the disastrous emergency response and general incompetence. Meanwhile, Chonghaejin Marine, the company that owned the ferry, has been revealed to have, simply put, done a lot of dangerous and illegal things for years;
their CEO has been arrested
and their owner is under intense investigation. The captain and crew of the ship at the time of the sinking have all been arrested, as well.
*People are wondering whether Korean culture is to blame for the tragedy, and one analyst offers a
perhaps-unexpected perspective
. And Children's Day this year was a somber affair, as families and children remember the children lost one month ago with
yellow ribbons in public spaces
across the country.