My estimate is that 80% of ESL teachers in Korea know what a "Bomb Game" is. (And if you don't, ask me what it is right now.) Oh, funny you asked! Well, it's a Powerpoint-based trivia game: simple to play, easily adaptable to any class, and, most importantly, remarkably popular with students of any age. The gameplay is simple: students choose questions from a grid. Correct answers get them points. The catch is that some of the questions are special rounds during which teams can steal points from or switch points with other teams, and one or two of the questions are "bombs": choose them and everything blows up, resetting every team's score!
I threw together my own bomb game last night; it took me the better part of five hours because I was doing it from scratch. But getting less sleep was well worth it for the awesomeness that went down in my classes today.

Calvin and Hobbes! All images in this post are copyright Bill Watterson and courtesy random pockets of the Internet.
Here are some things that happens when you play a bomb game with my students:
1) Song.
A group of six super-serious boys who are in it to win it gets the question, "Sing one line from any English Christmas song" groans at first, and then immediately launches into a surprisingly synchronized and
good
rendition of "We Wish You a Merry Christmas". I wish I'd recorded it, it was that fantastic.
2) Symbolism.
"Spring" becomes ironically synonymous with death, since my version of the Bomb Game, based off of the snowball fights from
Calvin and Hobbes
, replaces an actual bomb with Spring, which comes to melt everyone and take away their points. Students were actually chanting "spring" like some sort of jinx before rival teams chose their questions.
copyright Bill Watterson
3) Student Said What?
You discover that your students have a very poor grasp of American geography. (Q: "What are the two largest cities in the United States?" Everyone gets #1 New York, but what's the other? A: "Texas! San Francisco! Las Vegas! Miami! ALASKA!!!" they shout, to no avail.)
3b)
Also, they know absolutely nothing about Hanukkah, or even Judaism for that matter. (Q: "What is the name of the eight-day Jewish winter holiday?" A: "Rebirth day! Black Friday! Maria! Kill sheep and put blood on door!" ... *facepalm*)
4) Suspense.
My write-up on Facebook after the first class I tried it on: "Just played this in class. Teams "HyoungraeDolph" and "Snowmen" were tied in the lead with 5 points each. It's team "Eve" (the 6 girls who banded together) up next, with only two items left. They choose ... a BOMB! Everyone's back to zero! Chaos ensues. And now, team "SingleChristmas" has the very last item: and it's a special round! Will they throw, duck, or taunt? They choose to throw... ... ... ... it's a hit! 2 points! SingleChristmas wins!"
copyright Bill Watterson
5) Singleness pathos.
On that note, my students seem very fixated on the part of Christmas where they don't have a significant other to take to the Christmas lights show (as the holiday is very couples-oriented here in Korea). I had teams called "SingleChristmas", "Single Bells" (love!), and "Romantic Singles". Also, I had to change all of these names from "solo", the Konglish for "single".
copyright Bill Watterson
6) Surprise.
And this is my proudest moment, as a teacher. Team "WhiteChristmas", clearly the underdogs in their class who missed almost every question thus far in the game, had the very last question: a fix-the-incorrect-grammar doozie that freaked them out as soon as they saw it. But they were also riding high on a recent spring melt that had reset the playing field. Only "Single Bells" had a single point, and everyone else was at 0. With confidence I'd never seen before, SB stood up from his seat and proclaimed the heck out of his answer, and he was absolutely correct! Here's a kid that I'd previously written off as one of the "simply uninterested" ones, proving that he knew a thing or two about English grammar. And guess what? That last question was worth three points. He won it for his team, and the entire class went ballistic. My co-teacher said she could hear the screams from our office, two doors down.
Sounds like success to me!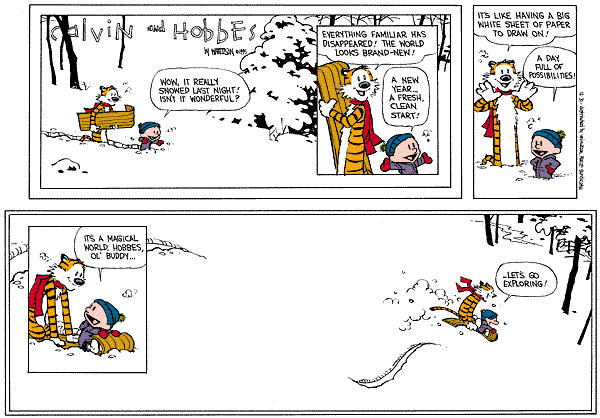 copyright Bill Watterson, a truly gifted cartoonist